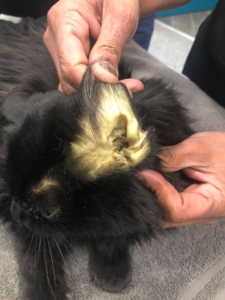 Poor Catulpa is sick. She's not eating and her liver is being affected. Notice the color of her skin is yellow. This is a sign of liver issues.
At this point the cause is unknown but it happens. She needs to be force fed. Rhonda from Townline Animal Hospital has agreed to take her home to force feed her. If she eats she should be okay.
Unfortunately we had some medical expenses to treat her. Bloodwork, exam, etc. If anyone can donate towards her medical care we'd be very grateful.
Thank you
❤