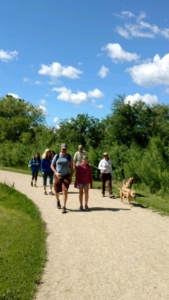 Join us for our Fourth Annual SPIRIT WALK
On June 24 we will be walking 12 miles, from Libertyville to Highland Park. Each mile AEAR's founder will post inspirational insights onto AEAR's Facebook page. The walk is meant to symbolize a growing and expanding of the mind, body and soul. For each person walking it is a walk for personal reasons, as well as global reasons. It's a quest to seek answers and truths.
Inspired by AEAR's founder, Sandy Kamen Wisniewski, when many years ago she felt she was at a crossroads in her life and decided to take a spiritual journey to get answers by walking from her home in Libertyville to her childhood home in Highland Park. Word got out about it and people asked to join her. Walkers ask for sponsors to make a donation in honor of the animals currently that are in Animal Education and Rescue's care.  
If you are unable to walk with us, please consider making a donation to help us raise funds for our animals.
Date: Sunday June 24
Time: 10:00 a.m. on top of the sled hill at Old School Forest Preserve in Libertyville. On top of the hill Sandy will guide the group in a meditation. The walk begins at 10:30 a.m. We stop numerous times on the walk. We will stop for a bite to eat at Panera Bread in Lake Bluff, ice cream in Highwood and dinner out at a restaurant. People can park their cars at Old School and we will carpool back to your cars afterwards. We are usually home by 7 p.m. the latest. You can come for part or all of the walk.
Donations for Spirit Walk 2018