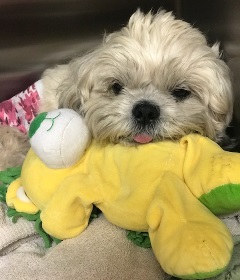 Tiger Needs Help
Late last night we took in this small Llasa Apso  dog. He was hit by a car. Today we located the owner and they can not afford the medical expenses necessary to get him back on his feet so she relinquished him to us.
His name is Tiger. He has hip injuries that we are currently trying to figure out what needs to be done. Also, not related to the car hitting him, he has horrible ear infections, possibly dry eye, a swollen area on his belly and has not been neutered. He is a mess.
The bills are going to be high and as of now we aren't sure how high. At this point conservatively we estimate $2,000 in medical. We need your help so we can help Tiger. The poor guy was only in his last home six months. Prior to that his previous owners just didn't want him anymore.
Please consider making a donation for Tiger's medical expenses so we can get him fixed up and adopted out to a new loving home.
Thank you
❤
Donations for Tiger's Leg