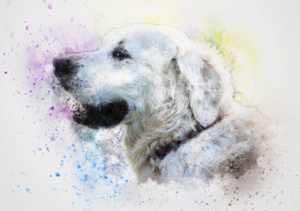 Get A Drawing of Your Pet!
So many people right now are feeling anxious, unproductive, or bored because of the state of the country.  We want to do our part to bring joy, cheer and connection everywhere. How?
We are soliciting a group of our animals-loving friends to draw or paint a picture of YOUR beloved pets. You donate $20 bucks to us and one of our volunteer "artists" will draw a likeness of your pet.
Now, don't expect the "next great painting," it probably won't be. You may even have to squint, or close one eye to see that it's your pet. BUT we promise that each painting or drawing will come from the heart, from someone who is volunteering their time and finding ways to be useful during this difficult times.
To get your drawing just make a donation of $20.  We will forward your receipt to our volunteer "artist" coordinator. Then in the next few weeks you can expect your "work of art" in the mail!
Donate $20 and Get a Volunteer-Painted Likeness of Your Pet!